I was driving pass the gas station when I spotted a nice piece of ass using the pay phone. I immediately made a u turn, parked the car and slowly made my approach. I overheard her arguing with her boyfriend who left her stranded, so I knew that I had a high percentage chance of stuffing her mouth with my mandingo warrior. After all the pleasantries, I put everything in perspective for Veeronica. She was stranded, lived about 45 minutes away, she did not have any money and her boyfriend dumped her. I then offered her some cash for her lovely ass, she refused but once a started showing her the benjamins she changed her mind. We went to one of my back ally hideouts. I got my schlong slobbed on then I went balls deep in her tight little pussy.
RealityKings Mobile!
See the mobile porn version of the video!
Scan this QRcode with your iphone, android, blackberry or other mobile device!
Girls appearing in this video:

Click here to watch this whole
100% uncensored XXX episode!


[ More StreetBlowjobs videos ... ]

Join today and download over 2500+ full length episodes in DVD quality!
One pass gets you into all the Reality Kings websites!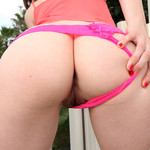 Special Deal!
Get a 2 day trial for just $1.00!
when you create your
RealityKings account HERE >>